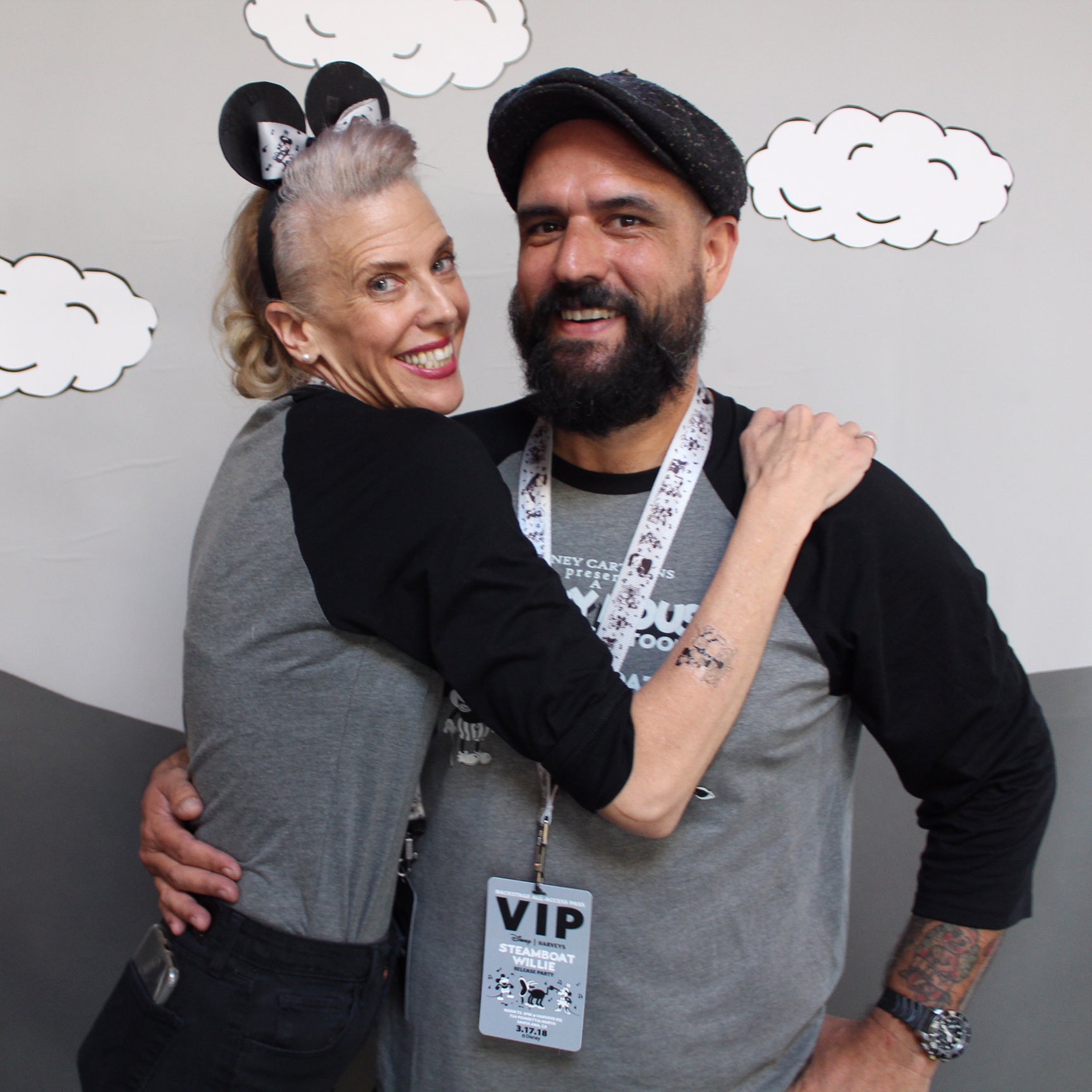 Harveys x Disney's Steamboat Willie Event Recap
Thank you to everyone who made it out to our Harveys x Disney's Steamboat Willie Event! Despite the unpredictable rain, there was a massive crowd waiting outside at noon, ready to celebrate this classic film with us. It was so much fun to finally release the entire collection, because it's so hard for us to keep these fun secrets for so long. We plan collections months, sometimes even over a year in advance, so we are just as excited as you are to finally reveal all the hard work with a fun party!
The first 100 customers were treated to our exclusive VIP package which included a Steamboat Willie Lanyard, Dustbag, and Tattoo pack! They were also treated to access to our behind the scenes event located upstairs which included a signing station with Dana and Melanie Harvey, photobooth, temporary tattoo parlor, popcorn and drinks, and a unique design presentation by our product developer Taylor! 
Everyone really enjoyed the glimpse into our collection design process so much, we decided to post it here for everyone to see!
Beginning stages of design where we find inspiration from the movie and from other things such as vintage images, magazines, fashion etc. We compile images together to create mood board to create a cohesive feeling for the collection. We looked at helms, rope, vintage nautical outfits and styling, life preservers. We also watched the film several times pulling inspiration from different scenes to find hidden elements, capture the characters as best as possible. 
This board explains the development process. Here we start to play with and develop the main print. The print takes some time to develop as we need to get the size, color and composition just right so it looks great on both the woven and streamline bags. We also start to develop the special bags such as the Pete and his embroidery and zipper mouth which takes time to size and match colors exactly. We also made the hidden life preserver as Dana spotted in the film, and take inspiration from the vintage look of the life preservers which used to have the stenciled letters. Last but not least, we had to feature Mickey or Minnie and bring them to life in a fun way with elements that truly spoke of  the film. We decided to create a beautiful embroidered bag with a nautical stripes on one side for Mickey and a polka dot side for Minnie.
After the design of the collection is complete, we come together with marketing and our photographer to discuss the photo shoot and how we want to bring these bags to life! We decided @Damfino (Allison) would be an excellent model as she loves Disney and she has that vintage flair! When we reached out to her she instantly said yes! A match made in heaven! Our intern-tuned-employee Katie created helped develop the backdrops and ideas behind the shoot. Taylor styled the photoshoot along with @Damfino who brought original pieces from her own wardrobe. @Disneylandmermaid aka Yvette did her hair and make-up and helped hype the shoot ("Get it Girl!"). Our photographer Jessica was able to capture the essence of the film with beautiful images that we all loved! Isabella provided all the sneak peeks you loved to see on our Instagram Stories and assisted with the shoot. It's a team effort! 
One of our amazing customers, Loree, made this insanely detailed custom Harveys Steamboat Willie quilt for the Harveys as a gift. As you can tell, they were overjoyed by her generosity and craftiness! Can we take a minute and talk about that polka-dot heart H side, I mean - swoon! 
A big thanks to all the Instagram community peeps who came out, and helped spread the word about this collection by posting, doing insta stories, etc. A shout out to our girl @tiffmink who made this sweet little video of the event! We would also like to extend a big thank you to our friends @missaliciam and @creatureintheparks for all the endless support, and always being willing to do an impromptu takeover for us, and for taking all these amazing photos of the event! We can't miss thanking our friends Allison and Yvette for making it out to the event, and all being so supportive from the beginning. We love this crazy passionate Disney community and we keep making new amazing friends along the way! We hope you enjoyed this recap, and we hope to see you at our next event!