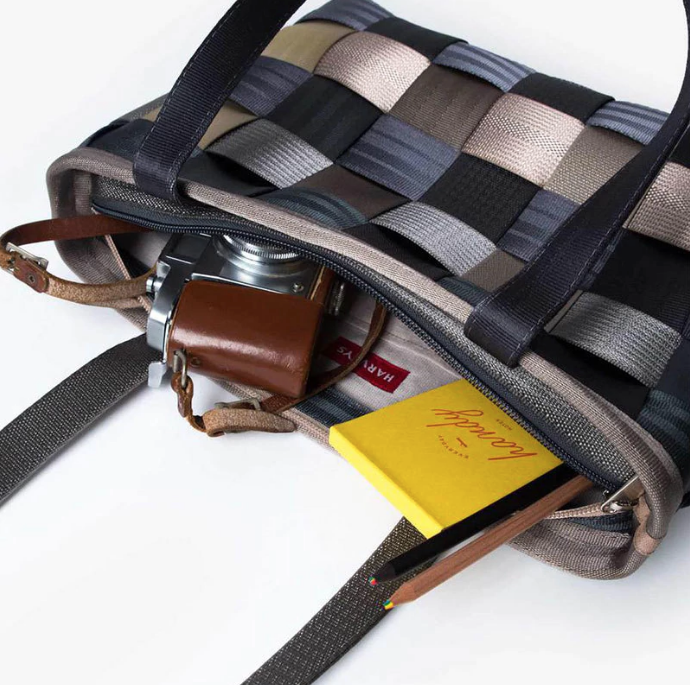 We're Tree(Cycle) Huggers
Happy Earth Day! Here at Harvey's we do our best to stay eco-friendly, from recycling to bringing in our reusable canvas totes! One of our biggest efforts towards sustainability is our Treecycle line of bags.
Our Treecycle collection first got its start in 2008 at the OsCene: Contemporary Art and Culture in Orange County at the Laguna Art Museum. Dana Harvey was invited as a featured artist to showcase his bags alongside a handful of other Orange County-based artists. For the show, Dana had an idea to take the unused scrap seatbelt from the auto industry, and upcycle them into bags. The collection was an instant hit and sold out. This gave the salvaged seatbelts a new life and purpose saving the material from sitting in landfills for the rest of time.
During the production of a vehicle, seatbelt is required to meet a needed length for safety protocols. If it does not pass the productions safety measures it is tossed into a scrap pile and remains unused. In 2016 alone, an estimated 70 million cars were produced, so you can only imagine how much leftover seatbelt there must've been!
Since 2008, Treecycle has remained one of our most popular collections, and one we sell year-round. It features 100% reclaimed seatbelts in a variety of natural tones, and has a hemp lining that's dyed with organic dyes. Not only does it look great, but it's great for the environment too!
Doesn't that kind of thing just make you want to celebrate Earth Day and all things Eco-Friendly?