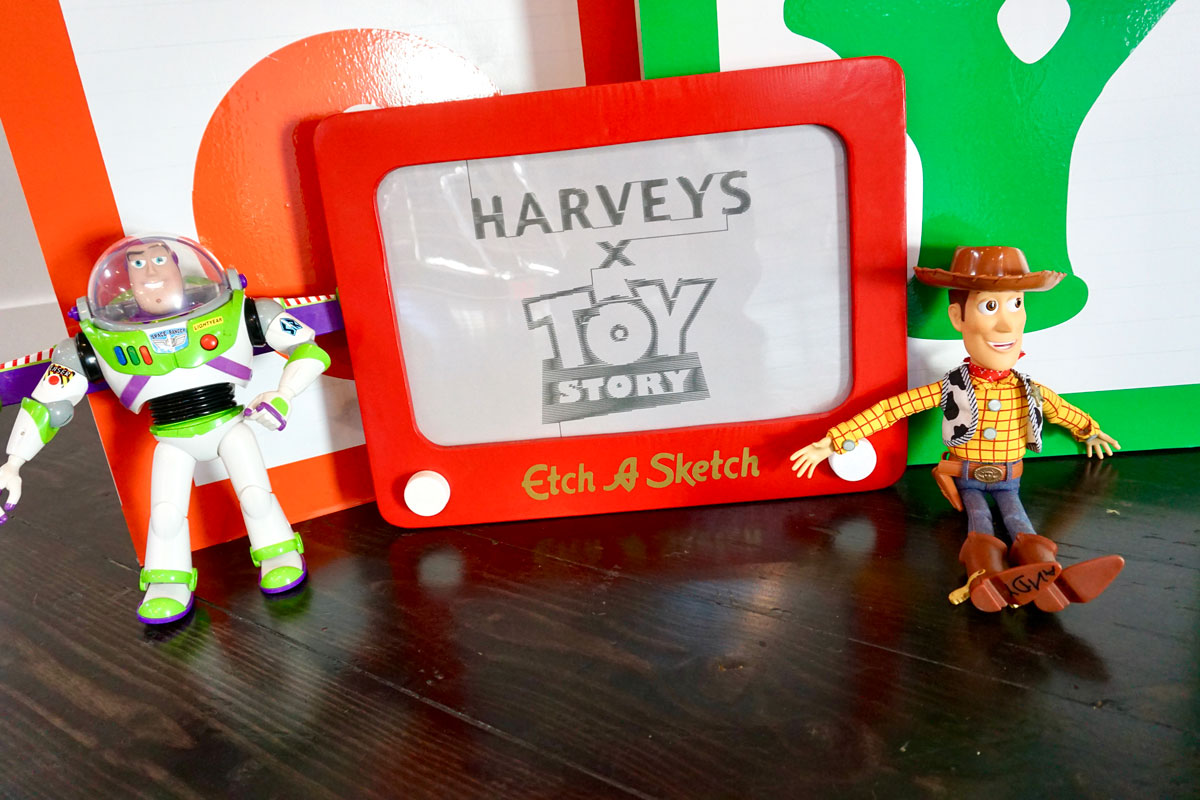 Harveys X Disney Pixar's Toy Story Event Recap!
Yee-haw!!! This past Saturday we released our newest collection in collaboration with Disney, Toy Story! We were super excited to release this collection, as it's our first collection with Pixar, and includes some of our most intricate bags to date! To celebrate the release, we invited all our pals, pardners, and space rangers to come to our store to celebrate!
Our store got a mini-makeover that transformed it into a toy store!
"Oooohhhh....."! We also had a super special surprise for everyone...
...the Pizza Planet Truck made a special appearance IN our store!!! It was the icing on the cake....or the cheese on the pizza...? for the store!
After a speech from Dana and Melanie, and a group photo, it was time to let everyone in!
The store quickly became a-"Buzz"! While everyone waited in line they were able to look at the Pizza Planet truck up close, along with getting a up close view of our new bags!
The first 100 customers were treated to our exclusive VIP package which included a Toy Story patch set, Dustbag, and Lanyard! They were also treated to access to our behind the scenes event located upstairs which included a signing station with Dana and Melanie Harvey, multiple photo locations, cookies, pizza, refreshments, and a unique presentation by our product developer Taylor! Let's head upstairs to see!
As soon as you walked upstairs you were greeted by our first photo spot! We brought our the wooden blocks we made for our Toy Story photoshoot so everyone could get cute photos with them!
Next up, in our kitchen we had "Pizza Planet" pizza (actually from one of our favorite pizza spots, Whata Lotta Pizza), refreshments, and custom made Toy Story cookies from @baked.by.lori.kay!
Just a bit further ahead was where Dana and Melanie were signing bags, plus taking photos at our second photo spot!
Look at everyone decked out in their Toy Story best! We loved seeing everyone's outfits!
We want to extend a big thank you for everyone who made it out to the event, you've all got a friend in us! We had so much fun, and hope you all did too! We'd also like to thank Caprice Cole for helping us with our Instagram takeover and creatureintheparks for being the rootin-est tootin-est sharp picture shooter in the wild wild west! And a big thank you to all the Instagrammers we work with who came to the event including:
 MissAliciaM, LittleSweetKaren, MagicallyKawaii, AbbyShayne,
 TomorrowLandTiff, livfantasmically, keshiasih, shophouseofmouse,
 braidsandbigearrings, AshtineLikeKutcher, AndiSakowski, therachelestplaceonearth,
 cindyrelly._, missvintagelady, bbybliss, tranganhdong, TikiRoomBBY,
fdzney, thehealthymouse, tristin.todd, krystaleverdeen, and The Disney Observer!
And the biggest thank you to the Harveys team and everyone who volunteered to help make this event a BLAST!
We hope you enjoyed this recap, and we'll see you all at our next event! To infinity and beyond!!!