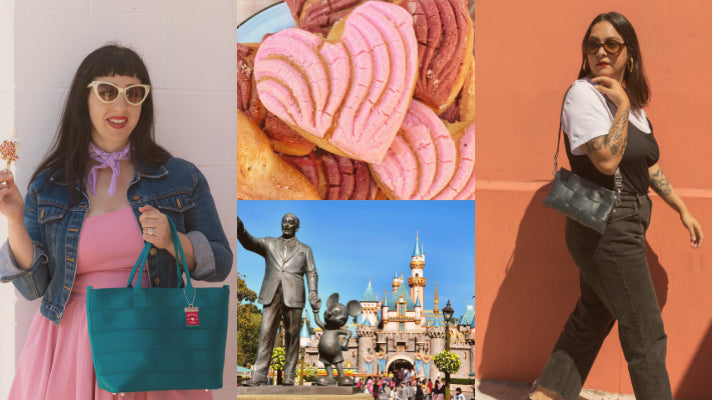 Harveys Guide to Santa Ana
As you may or may not know, Harveys bags are made in Santa Ana, CA! Part of Orange County, Santa Ana is just south of Disneyland, and full of just as much fun! We decided to put together our own guide with some of our favorite spots to check out, so that next time you visit Harveys you can make a full day of it!
4th Street
Just a 13 minute walk from our store, 4th Street has a lot to offer! From beautiful brick buildings, great photo walls, and some of our favorite places to eat, this downtown area has a lot to offer!
As you walk through, you may recognize a few walls that we've used to shoot bags on! Can you find all the spots for the Harveys wall crawl?
4th street is also home to many of the restaurants we frequent when we're at the office including:
4th Street Market
201 E 4th St
Santa Ana, CA 
92701
Described as a "...progressive culinary hub inspired by the spirit of creative chefs, food artisans, and small business entrepreneurs.", 4th Street Market is a great spot if you want to try something new, or if no one in your party can decide on one thing to eat! Unlike traditional restaurants, 4th Street Market is more like a modern food court, where there's tons of food options. Everyone is sure to find something they'll enjoy!
Crave
410 W 4th St
Santa Ana, CA
92701
Looking for something fresh and light? Crave is the perfect place! With salads, soups, and sandwiches Crave offers comfort food that isn't plain! It's our office's go-to spot for a treat that doesn't feel heavy.
Cafe Cultura
324 W 4th St #B
Santa Ana, CA
92701
"Si no hay café para mi, no hay café para nadie" aka, "If there is no coffee for me, there's no coffee for anyone". Cafe Cultura's menu is filled with great Mexican comfort food, everything we've ordered has been outstanding! If you're a coffee lover, this place is also for you. Their specialty lattes, including an horchata latte and other seasonal flavors, are not to be slept on! And while you're there, be sure to get a heart-shaped concha!
Playground
220 E 4th St #102
Santa Ana, CA
92701
https://www.playgrounddtsa.com/
Let's have a dinner date! Playground is a modern gastropub with great takes on American cuisine. Or, if you're just looking to get some drinks, Recess by Playground is located within the 4th Street Market!
Chapter One
227 N Broadway
Santa Ana, CA
92701
Featuring a menu that changes seasonally, and sources its produce from local farms, Chapter One cannot be missed. Chapter One delivers all the best foods, while staying true to its message of sustainability, which is something we at Harveys can get behind!
Hidden House Coffee
511 E Santa Ana Blvd
Santa Ana, CA
92701
https://hiddenhousecoffee.com/
In need of caffeine? Hidden House Coffee has you covered! With its open-concept space, Hidden House offers tons of areas to relax or work both inside and outside. And, of course, the coffee is great, too!
Bowers Museum
2002 N Main St
Santa Ana, CA
92706
After grabbing something to eat it's time to visit the Bowers Museum. As one of Orange County's largest museums, this cultural center has great exhibits all throughout the year, and is a great way to spend the day!
Balboa Pier
1 Balboa Pier
Newport Beach, CA
92661
https://www.californiabeaches.com/beach/balboa-pier-beach/
Just a quick 25 minute drive away, Balboa Pier has tons to offer! See the beautiful Pacific at the expansive beach, visit the Ruby's Diner located ON a pier, or visit the Balboa Fun Zone which offers small rides and an arcade. And be sure to visit Sugar 'n Spice for a frozen banana or a Balboa Bar, which some Harveys fans may recognize…
Angels Stadium
2000 E Gene Autry Way
Anaheim, CA
92806
https://www.mlb.com/angels/ballpark
Just a quick 8-minute drive from Harveys, this expansive stadium is mind blowing! We've had team outings to games here before, and it's always been a blast, so if you can come for a game we recommend it! If you happen to be here during the off-season it's still great, especially to see the GIANT HATS located outside!!!
Disneyland
1313 Disneyland Dr
Anaheim, CA
92802
https://disneyland.disney.go.com/
Last but not least, it's Disneyland! Just 12 minutes away by car, Disneyland serves as endless inspiration for us at Harveys. Filled with rides, great food, and endless magic, this is a CAN NOT MISS spot for anyone visiting the area. And while you're there, pop into The Dress Shop in Downtown Disney to find some Disney Parks-exclusive Harveys bags!
We hope this guide helps you on your next trip to Orange County! Be sure to let us know if you visit any of these spots, and if you have any hidden gems of your own, we'd love to hear them!