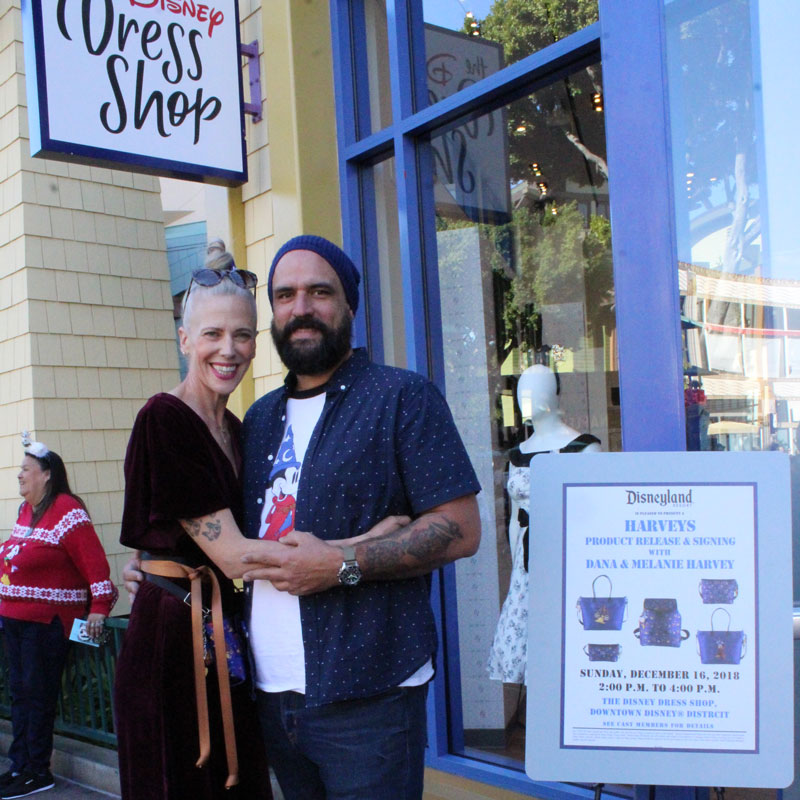 Harveys x The Sorcerer's Apprentice Downtown Disneyland Event Recap!
Hello fantasmic beings! This past Sunday was the official release of the Harveys X The Sorcerer's Apprentice collection in the Disney Parks! With FOUR new exclusive styles, including a Backpack, Convertible Crossbody, Messenger, and Double-Sided Medium Streamline Tote, this was not an event to be missed! To celebrate the occasion, Disney invited Dana and Melanie to do a signing at The Dress Shop in Downtown Disney, which carries a variety of Harveys bags, not just Sorcerer's Apprentice (so go check it out)!
Look at those beautiful displays! The blues really stand out amongst all the red and green holiday decor! Customers were also treated to a Sorcerer's Apprentice Bow as a GWP! Perfect for decorating your bag further, to wear as a hair accessory, or whatever else you can think of!
Let's get to signing!
(these two brought some classic Harveys x Disney bags with them!)
Selfies are always encouraged!
Hugs are encouraged, too!
Some more amazing Harveys x Disney style! Turn any plain Harveys bag into a Disney bag with the addition of patches and pins! We love unique DIYs like this!
Thank you to those who came to the signing and made it a success, we hope you all had fun as well! A big thank you for Disney Parks for having us and for setting up this entire event. Thank you for all the influencers that spread the word of the event and for coming to the event. A big thank you to @BraidsAndBigEarrings for helping us with our Instagram takeover and @creatureintheparks for taking these great pictures! And thank you for @Nicolina.Co for doing an Instagram takeover all the way from Florida's Disney Springs (where you can also find our bags at Ever After Jewelry Co).
We hope to see you at the next event!