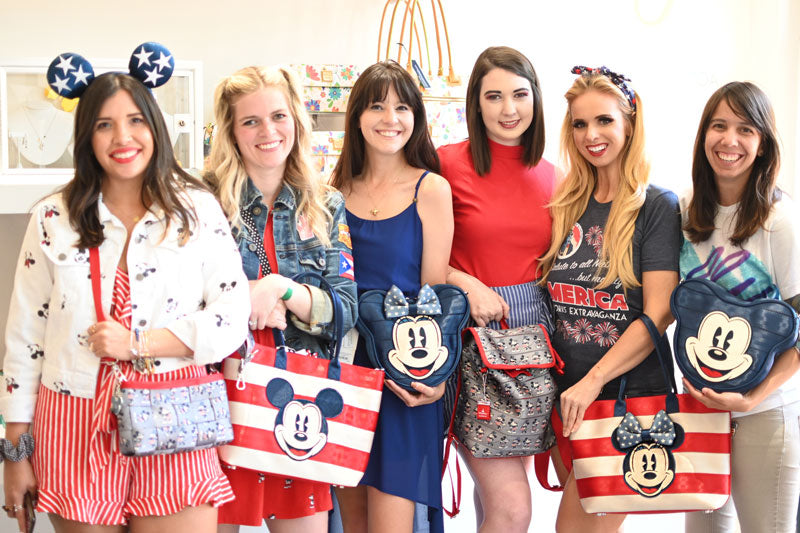 Mickey Mouse Americana Disney Springs Event Recap!
This past Friday and Saturday was the release of our Mickey Mouse Americana collection in Disney Parks! To celebrate the occasion, the Harveys headed to Florida for a two-day event at Disney springs, where fans had a chance to purchase from the collection, along with meeting and having their bags signed by Dana and Melanie!
Along with four brand new bags featuring red, white, blue, and Mickey, too, this also marked the release of the Harveys Disney Parks Designer Collection ears!
And as an added bonus, customers who came to the event received this special Keychain as a gift with purchase:
After a speech from Dana and Melanie, eager fans came into the Ever After Jewelry Co. to see the new collection for the first time! After purchasing they were also able to get their items signed by Dana and Melanie, and take photos if they wanted to!
"Thank you to all of our friends in Florida for your love and kindness! It was truly magical seeing not only old friends but meeting new ones too. We hope everyone had as much fun as we had making and sharing this Mickey American collection for you! Our hearts are full" - Dana and Melanie Harvey
We also made a fun video documenting the event, thanks to the help of @ItStartedWithABlouse and @StyledByMagic, who did our Instagram takeovers!:
Thank you to everyone who made it out to the event, and everyone who purchased from the collection this weekend! You made it a giant hit, and we're forever grateful for your support!
Another thank you to @ItStartedWithABlouse and @StyledByMagic for doing our Instagram takeovers.
A BIG thank you to @MinnieMariaMouse and her photographer @ashlynsanchezphoto for taking these great photos and helping us document the event.
And a thank you to all of our influencers that came to the event including:
@Aliya_Burshan, @DreamAlongWithTaryn, @RebekahMarie8, @LivTheMagic, @TheIndependentSprinkle, and @KristyneMarie
We hope you enjoyed this recap, and we'll see you all at our next event!