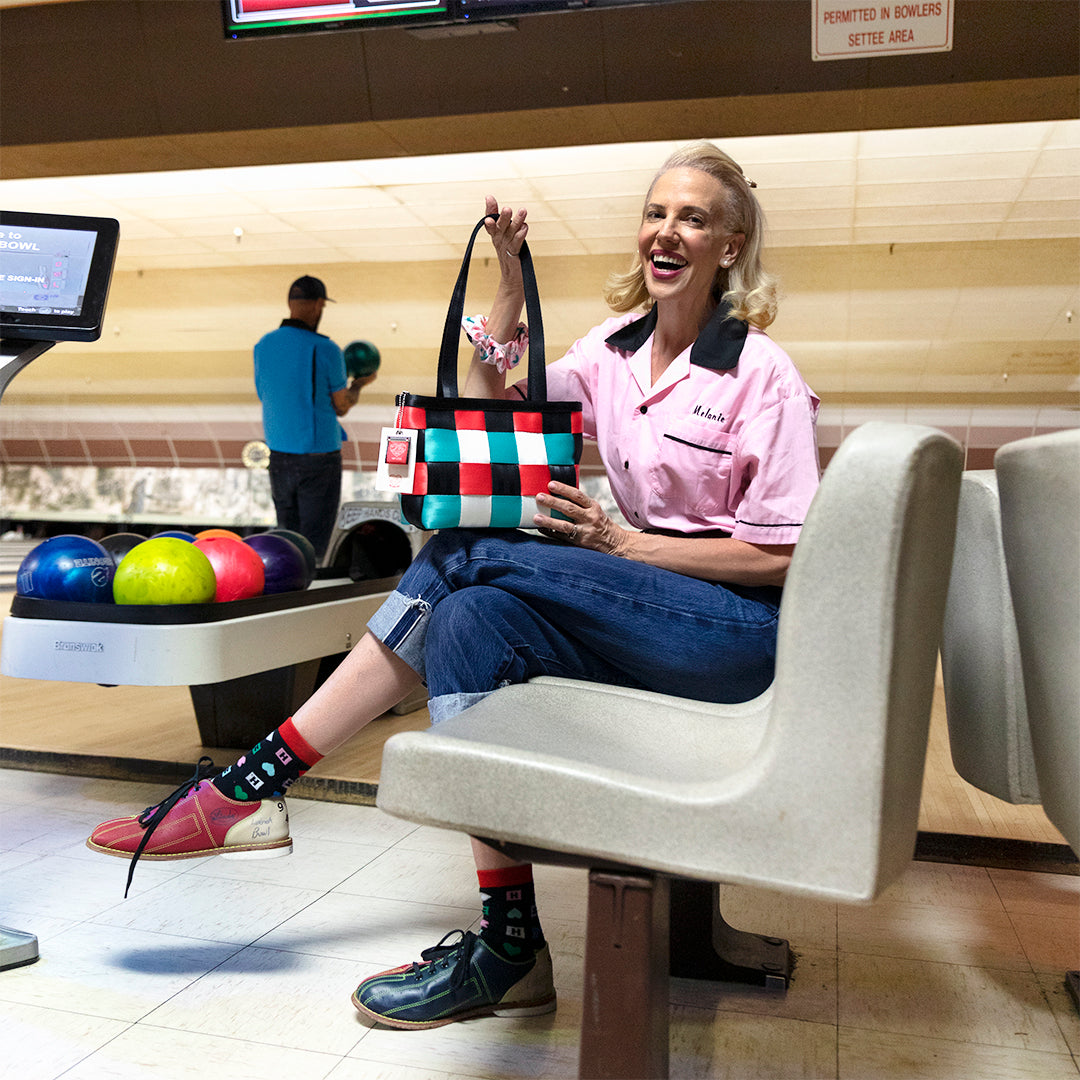 Our Newest LTD Collection Strikes Out!
Our newest Limited Edition, or LTD, collection is here! Bowl-A-Rama is the latest collection in a legacy of LTDs. These bags are limited and each comes labeled with a number 1-250. But why bowling? It's actually a fun little story! Our design team was meeting with Dana in his office when inspiration struck! Both Dana and Melanie like to decorate their offices with amazing art, fun knick knacks, and everything in between! During the meeting, Dana happened to look at a bowling pin sitting on a shelf in his office and made a suggestion- what if the next LTD was bowling related? That small moment sparked a flare and from there Bowl-A-Rama began to take shape!
The Harveys used to go bowling together for date nights and love everything Mid Century Modern, so it just made sense to combine the two for this collection. Since this year is our 25th Anniversary, we dug through the archives and fished out two older prints, Atomic Starburst and Boomerang, and updated them for Bowl-A-Rama. We know customers love seeing our older designs and we had a lot of fun reimagining them into something new.
This collection is all about bowling, so we just had to have the photoshoot at a bowling alley! We found a retro bowling alley nearby and the team went to check it out! Linbrook Bowl is located in Anaheim not too far away from our office and down the street from Disney! We were really inspired by the vintage neon sign and retro decoration throughout the bowling alley. The staff there were so kind and even gave us a whole section to ourselves so we could take our photos! We had a lot of fun and this shoot and are so thankful to Linbrook for letting us run around with our camera.
Since we would already be there for the photoshoot, we figured why not stay to actually bowl! We invited the rest of the crew to join us and we all had an absolute blast! We wore matching bowling shirts, ate pizza, and tried our best at getting a strike! Dana bowled a turkey, which if you don't know, is three strikes in a row! We might not have all been the best (cough me cough) but we all had so much fun that it might have to make it a regular thing!
Bowl-A-Rama releases Friday, April 29th at 8am exclusively online here on shopharveys.com!