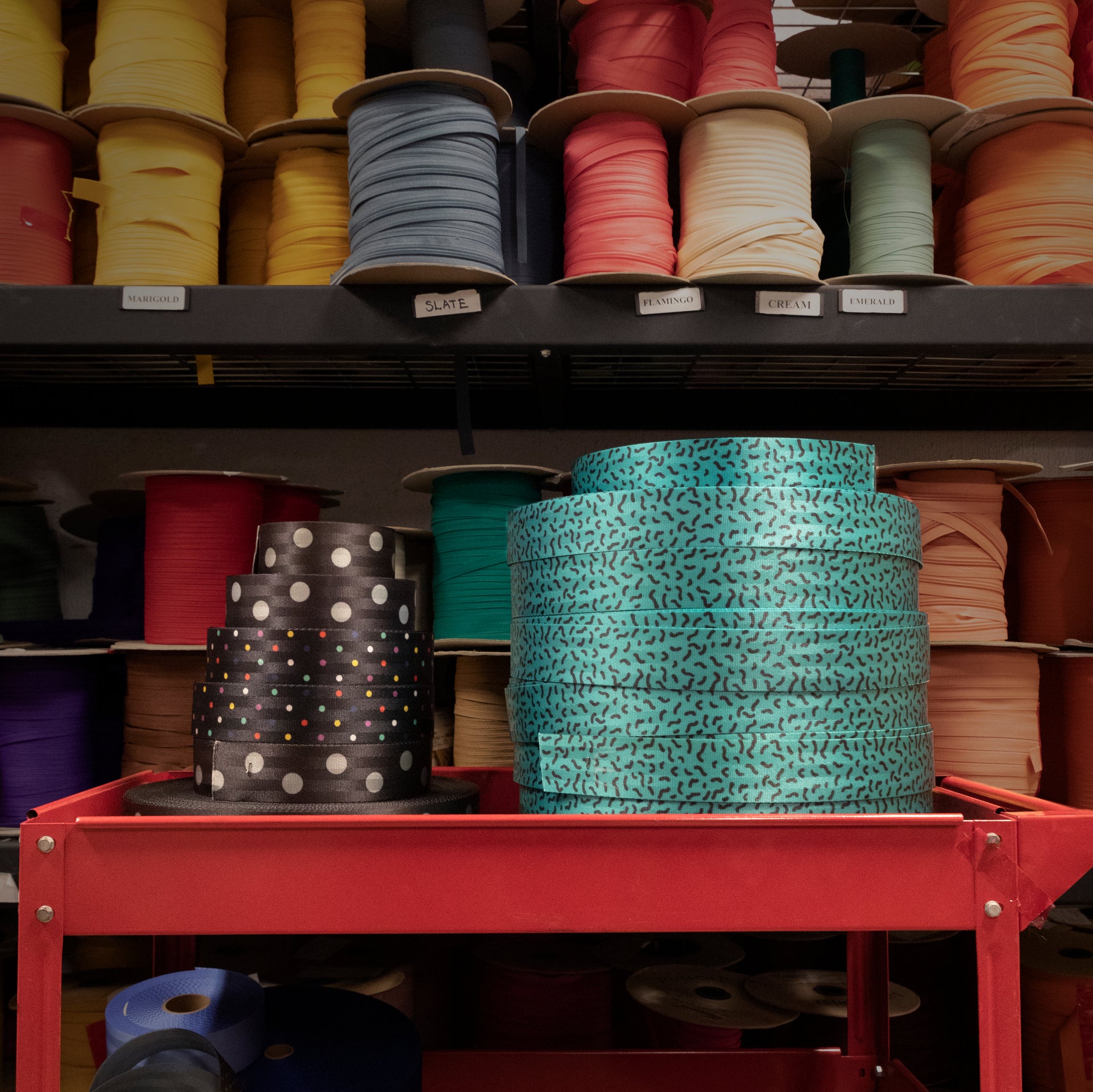 Made for Me: Materials
Welcome to Made for Me Monday! Oftentimes our customers are surprised by how many different parts it takes to make a seatbelt bag. Today we'll be talking about some of the most exciting materials used on our production floor. This is a really exciting step in the process because our team can finally begin to see the collection take shape.
As a small family business, receiving the materials is a crucial part of the production process. Our team has to be sure everything is ordered and arrives at our factory in a synchronized manner for us to hit our release dates. Any delays will cause slow downs in our production and can cause a domino effect. The last few years with the pandemic have really changed how we plan and order materials but our team has worked hard to adapt to the changing times.
All seatbelt arrives at Harveys in neatly wrapped rolls but it doesn't stay that way for long! Once the seatbelt makes its way into our factory it always begins its production journey with Fernando. Fernando has been working for Harveys for over 20 years now and is the one who cuts all of the seatbelt. The seatbelt is prepped and cut to specific lengths depending on the bags and what is being produced. Made for Me has three different seatbelt prints along with Black seatbelt that needed to be cut. Once we knew how many bags we would need from the preorder, Fernando was given a list and worked his way through the rolls of seatbelt. After everything is neatly cut, it's boxed up and organized for the rest of the production team.
A lot more goes into our bags besides just seatbelt. Our team has to organize other materials like thread, lining, zippers, and metal hardware for production to complete your bags. Each material has its own journey before it gets to our production floor. Here's the story for a few of these other materials we use.
Here at Harveys it's important for us to have the highest quality materials for each part of our bags. Embroidering on seatbelt can be tough work and we needed to make sure the thread we used was up to the challenge! Over the years our team has sourced many different kinds of thread to find the perfect one for our bags. The thread used on the embroidery is the highest quality on the market. Our team loves this thread because the vibrant colors offer a lot of different options for our designs and its durability means it will last for as long as your bag. Since we offer a lifetime guarantee on our bags we want to make sure that each of the materials will live up to that promise.
Another small but important element of every bag is the zipper! We only use the highest quality zippers on our bags and accessories. We work closely with the manufacturer that produces our zippers to ensure that we can find a zipper that matches the colors of our seatbelt or create a product that matches the feel of our collection. We love working with manufacturers that give us these creative options but oftentimes these fun ideas come with a longer lead time. The delivery time on these materials can potentially be 6 months, so it takes careful planning to make sure we can have them on time to complete the bags. It's extra work but it's worth it to us so we can make sure the bags meet our high standards.
For our team all these extra steps in getting the best materials are worth it so we can create the highest quality product for you! Even though we are a small business, we are constantly searching for the best materials for our bags so the quality will always match our promise of a lifetime guarantee. Thank you for joining us this week to learn more about our materials. We'll be taking next week off as our team will be preparing the materials for production. Once production has started we'll be taking you on a tour of the different machines in our factory to see how each one plays an important role in piecing together our seatbelt bags!