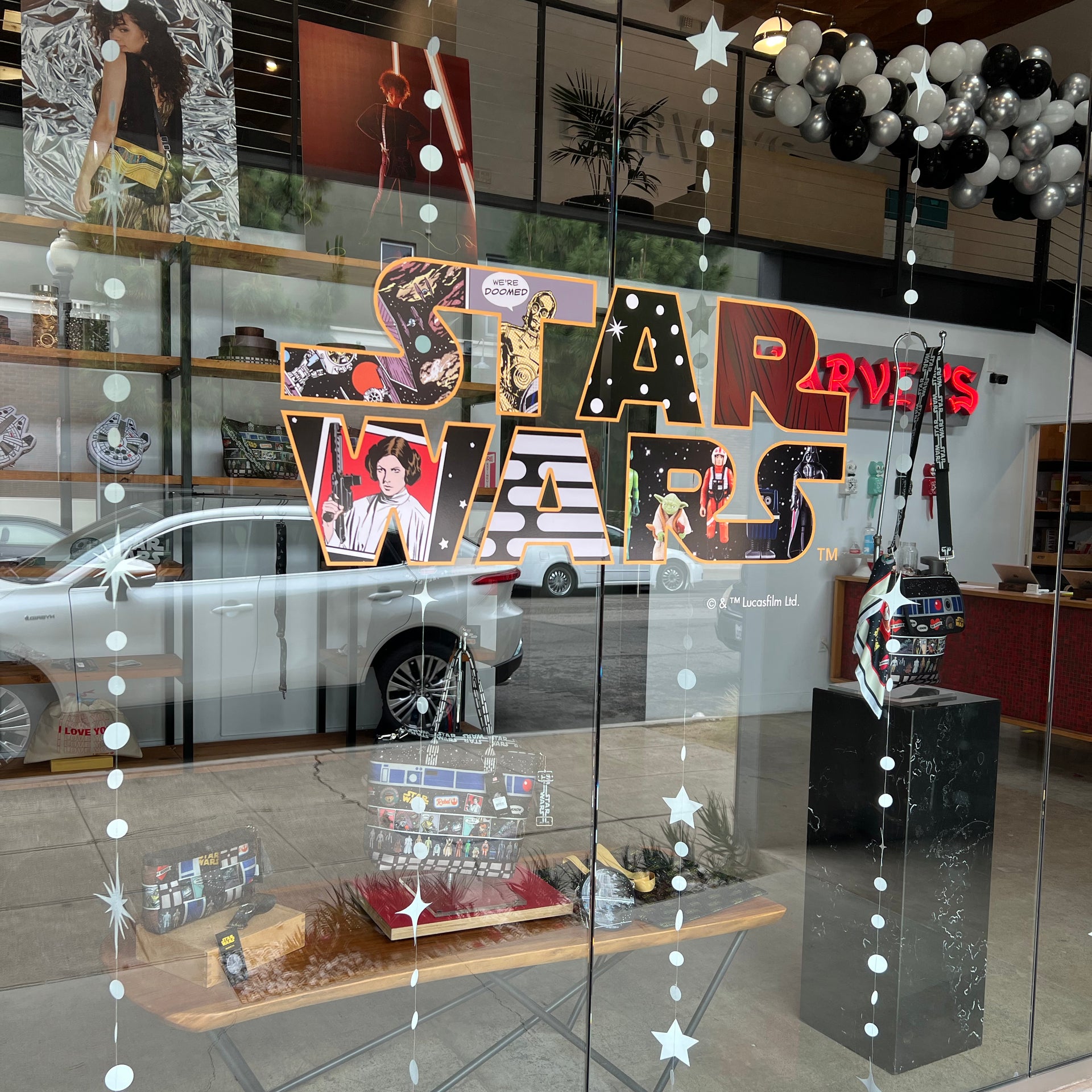 STAR WARS™ Patchwork Fun at the Mothership
This Friday we hosted an out of this world party at our retail store in Santa Ana for our newest collection with Lucasfilm, Star Wars™ Patchwork! It was so amazing to see all of the Star Wars x Harveys fans lined up in the morning when our team came in. Our collections are typically planned and designed a year in advance, so we were excited to finally be able to share it with everyone! Unfortunately Melanie couldn't be there but we started the morning with a few words from Dana before opening the door and welcoming everyone in! 
The retail store was decked out in celebration of Star Wars. Our team spent Thursday blowing up 200+ black, silver, and white balloons and artfully placing them along our stairwell. Melanie brought in part of her personal collection and Dana offered some of his collectables so we were able to decorate the shelves with all things Star Wars. 
Star Wars Patchwork included so many fun bags and accessories, including some we pulled from the archives to celebrate our 25th Anniversary. The first 25 guests in line received an exclusive VIP Star Wars Lanyard. Not everyone could get a lanyard, so our team also made fun buttons for everyone who came out! Customers were able to choose their destiny and could either join the Light Side or the Dark Side.
Our design team created an amazing backdrop just for the event and everyone was able to take photos after shopping the collection. Dana was signing bags, taking photos, and having fun catching up with all the Harveys friends and fans.
We ordered black film and broke out the Instax camera to commemorate the fun on our new Wall of Fam. If you weren't able to join us for the event don't fret because you can still add your photo to the wall! Be sure to ask our Crew next time you drop by to pick up an order or shop and they will gladly take your picture!
No Harveys event would be complete without a tasty treat and we went all out with this one! Our team created special drinks and customers were able to choose either Light Side Punch with lemon and blueberry or Dark Side Punch with sparkling strawberry grapefruit! 
We continued the Light Side vs Dark side theme with the sweetest treats in the galaxy, cookies! Customers were able to snack on some decorated like the Rebel insignia or the symbol of the Empire. These amazing cookies almost looked too good to eat (but of course we had to).
We are so thankful for everyone's support and want to thank each and every person who came out to celebrate Star Wars Patchwork with us. If you were there we would love to see your photos! Be sure to tag us on Instagram @shopharveys or post on our official Facebook fan group, The Happy Harveys Club!