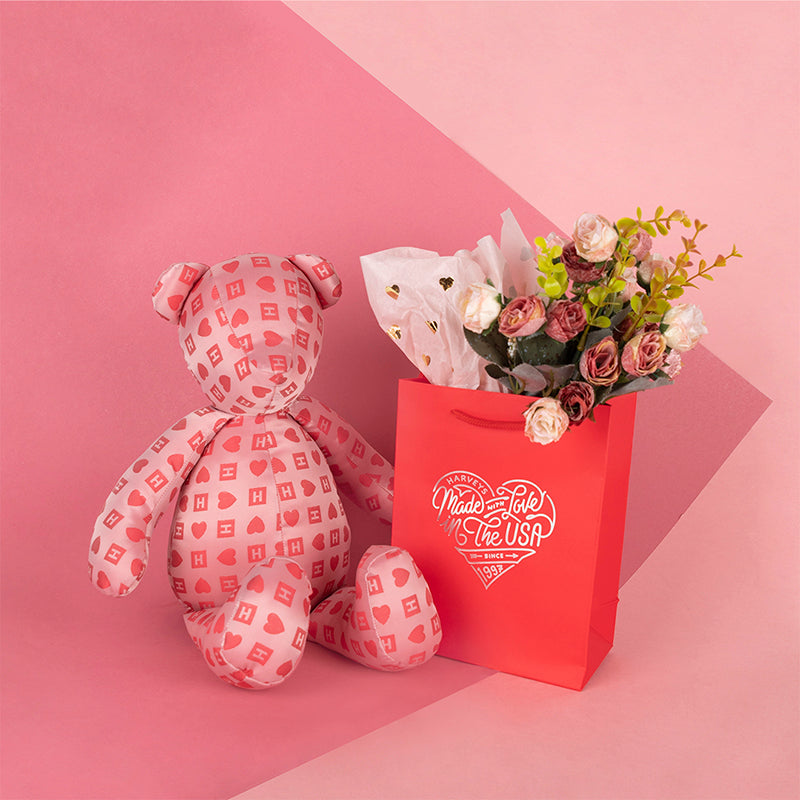 Welcome Back Home Cali Bear!
Years ago, the Harveys crafted a cute little teddy bear out of their signature bag lining. We asked our customers to help us track down all the different bears we've made over the years. There have been seven different color variations of the older style bear- grey, brown, black, red, pink, maroon, and camo! One lucky customer even has a one of a kind giant bear!
This bear was one of the most requested items by customers, so this year we decided to bring it back! The bear is an iconic and prominent symbol of the California state flag. As a small company based in Southern California, we embraced this symbol. After working out a few kinks and Dana deciding on a name, Cali Bear was born! We even gave Cali Bear her own little sleeping bag! This new Cali Bear first debuted with our summer Made With Love collection in two colors- Scarlet and Chambray. This little bear quickly moved into the hearts and homes of Harveys fans everywhere!
Everyone loved the new bear, so we decided to bring her back for the holidays! This next Cali Bear was released with Harveys Workshop in a beautiful pink. Cali Bear is also featured in the collection's print alongside Santa and the Harveys elves. But that's not all- we scaled Cali down and made a small Key Charm version of her! This Mini Cali Bear was hugely popular and quickly sold out.
At Harveys, we're always looking for ways to expand and improve. So what does that mean for Cali Bear? In the beginning of 2021 we added a new friend for Cali Bear. The Harveys are animal lovers and wanted to pay tribute to their family dog, Coco. With a few design tweeks, a puppy named Coco was born! Made out of black lining with a red bandana, Coco is Cali Bear's new friend!
New colors, a new friend, but what about a whole new outfit? For May the fourth we did a collection inspired by our favorite Rebel- Princess Leia! For this collection we gave Cali some space buns and dressed her up in Leia's iconic white dress. This special edition of Cali Bear was limited to 250 and sold out fast! Don't fret if you missed out, we might have a little something coming your way!