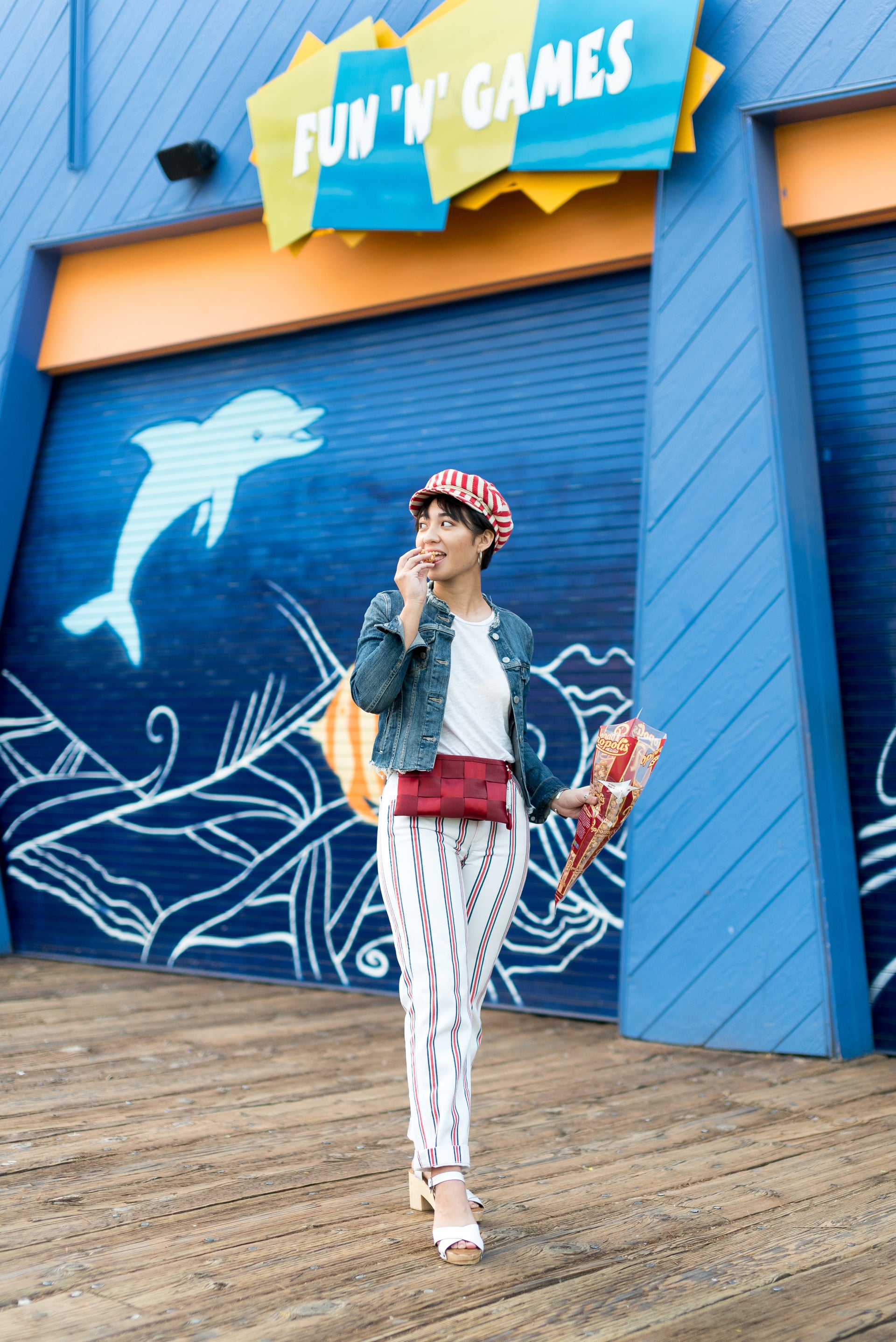 ❤Valentine's Style Extravaganza! Pt. 2 (ft. TikiRoomBBY)❤
We are just under a week until Valentines Day, can you believe it?! We've been hard at work shipping out all sorts of Harveys Valentines gifts, and have reached out to our friends AshtineLikeKutcher and TikiRoomBBY to see how they'd rock our bags for all different types of date-night scenarios! In case you haven't seen part one of this two-part blog extravaganza, click here to see how AshtineLikeKutcher created fantastic flat-lays to showcase her Valentines style.
❤ ❤ ❤
Today's guest blogger is TikiRoomBBY, style extraordinaire and master of pattern-mixing:
Hi friends, I'm Tanya from @tikiroombby! The month of love has arrived, and what better way to celebrate than with not one, not two.. but FIVE date outfit ideas (styled with some of my favorite Harvey's bags, of course.)! So get ready, because I planned some fun dates with the boyfriend, and dressed and accessorized accordingly! 
Jumpsuit: Target | Mules: Similar
Up first, we had to do the tried and true movie date! I grabbed this Medium Streamline Tote in Ruby, a cozy blanket for optimum theater cuddling, and maybe a few contraband treats... shhh. Outfit wise I decided on a jumpsuit (which is really just socially acceptable onesie pajamas if you ask me) and a pair of comfy mules that I can easily slip off to achieve ultimate comfort in those reclining theater chairs.
Jeans: Similar | Tee: Similar | Jacket: Similar | Shoes: Converse
I'm trying to be as unbiased as possible, but Disney dates might be the best dates. Comfort and versatility are key when you're planning your day, so I decided on one of my favorite Harvey's silhouettes: The Park Hopper. It sure lives up to its namesake; you can take it from one park to the next effortlessly, and it even holds all of your necessities for the day. I was able to carry in an extra pair of ears, the jacket I'm wearing, my Instax mini camera, my larger wallet, two lip balms, and of course my phone all in this bag! For this fun day, I chose this equally fun Cherry Bomb Park Hopper. When we attempt to do a full park day, I like to make sure I wear sneakers and a comfortable all-day outfit that usually consists of jeans, a tee (any cute graphic Disney tee will do), and a jacket or sweatshirt that goes on right after the sun sets. My motto for a park day is always functional but fashionable!
Shoes: Similar | Top: Similar | Dress: Similar
You can't have a movie date without a dinner date, right?! One of my favorite things about dinner dates is being able to carry everything you need in your hand. I decided to use this Classic Wallet in Amethyst as a clutch for the occasion as it fits my giant phone, cash, a coin pouch full of change, and all of the important cards: credit cards, gift cards, and of course, your Disney pass! For this outfit, I layered a flowy white blouse under my otherwise casual dress to elevate the look. Heels are always my go-to to dress up an outfit, and these velvet platforms are snazzy enough to do just that. 
Top: Similar | Pants: Similar | Shoes: Similar
When you think romantic does your mind automatically go to picnic? Mine does! Picnics check off every box for me, yummy food, blankets, wicker baskets, parks, and eating with your favorite person! I had to take this opportunity to get Bryan to take me on a picnic with one of the cutest bags out there. This baby is definitely going to be my every day bag through the month of February. I prepared some finger foods, packed my favorite kombucha and dug up a summery quilt and off we went. Had to stick with comfy clothing for this date, too. I wore a blousy top and a pair of embroidered fatigue pants to be at my comfiest while picnicking!
The Santa Monica Pier is full of arcade games and snacks, and if that isn't an equation for a great date, I don't know what is! You need a bag for hands-free fun and this Harvey's Hip Pack is exactly that. More than just a fanny pack, this Hip Pack also converts into a clutch, a mini crossbody bag, and a wristlet- so it might be the only bag you actually need for any and all Valentine's Day dates! I paired some patterned jeans with a plain white tee and that favorite jean jacket that we all have in our closet. To top this look off, I threw on fun hat because pattern overkill is my specialty, haha!
All that's left now is deciding which Harvey's bag you want from your valentine! ;)
Happy shopping and Happy Valentine's Day!
XO,
Tanya
(You can find more like this on my blog here!)
❤ ❤ ❤
Be sure to check out all of Tanya's amazing style on her Instagram, @TikiRoomBBY. Plus, check out her boyfriend Bryan's amazing photography @Fdzney! The two of them are a power team, so go and show them lots of love! We hope you loved this two-part blog as much as all of us loved putting it together for you! And be sure to check out our Valentines Gift Guide, which has all sorts of goodies that will make the perfect gift for this upcoming v-day!