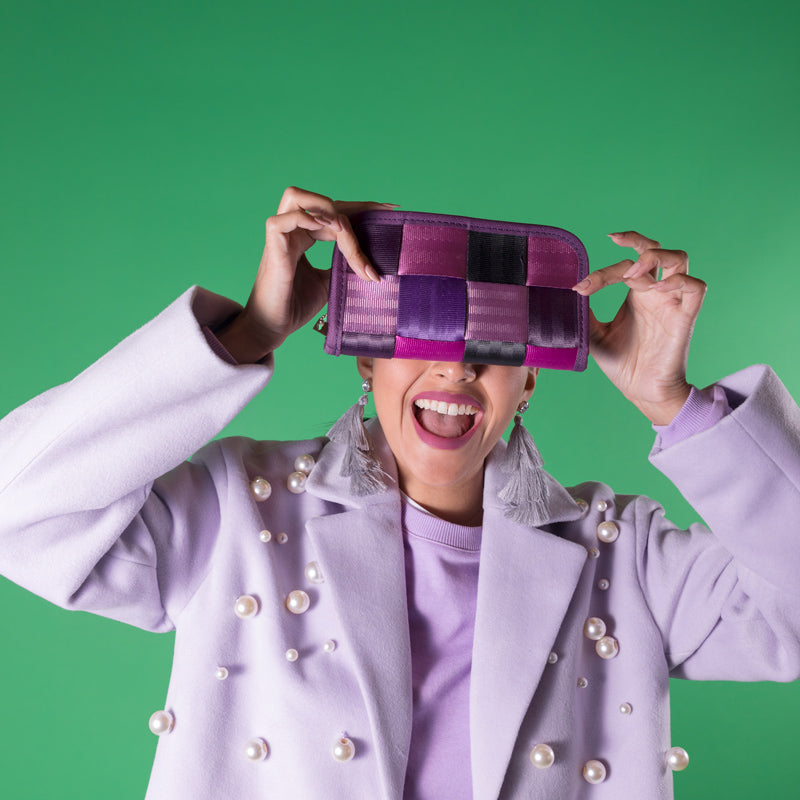 Why Seatbelt?
Even though we've been making seatbelt bags for over a decade we still sometimes get the question "Why Seatbelt?" thrown at us so we decided to write a little love letter to our favorite thing: seatbelt! Here are all the reasons why we love this beautiful and durable textile:
Its Shiny!
Ooooh....shiny....! Seatbelt has a lustrous effect when light hits it giving it beautiful shiny appearance. Depending on what light its facing it can even have color-changing effects!
Its Colorful
Our seatbelts show color like no other! From the greenest-greens to the purplest-purples, seatbelt is able to show a wide range of stellar colors. On top of that seatbelt is colorfast, meaning those beautiful colors won't ever fade away!
You Trust It With Your Life
We use seatbelts to keep us safe while driving every day, so why not incorporate it to keep all your valuables safe?
It Can Hold 5,000 Pounds
Seatbelt is strong and durable! Our bags are guaranteed to last you a long time, and to keep them going strong they all come with a lifetime warranty to fix any mishaps with zippers, stitching, or hardware!
Its Easily Cleaned
Dropped something on your bag? No problem! We recommend using use mild soap and a soft toothbrush to scrub away any dirt or scuffs. For tougher stains, we offer a Bag Spa service to deep clean your bag and get it looking as good as new!
Wear It Rain or Shine
Unlike other materials, seatbelt able to wick away water, keeping all your valuables safe and dry!
Its Animal Friendly
We're animal lovers here at Harveys and its important that we reflect that in our bags! All of our seatbelt bags are vegan, meaning no animals were harmed in the making of our bags, and that they use no animal products!
All of these and so much more is why we've come to trust and love seatbelt as more than something you use in your car!