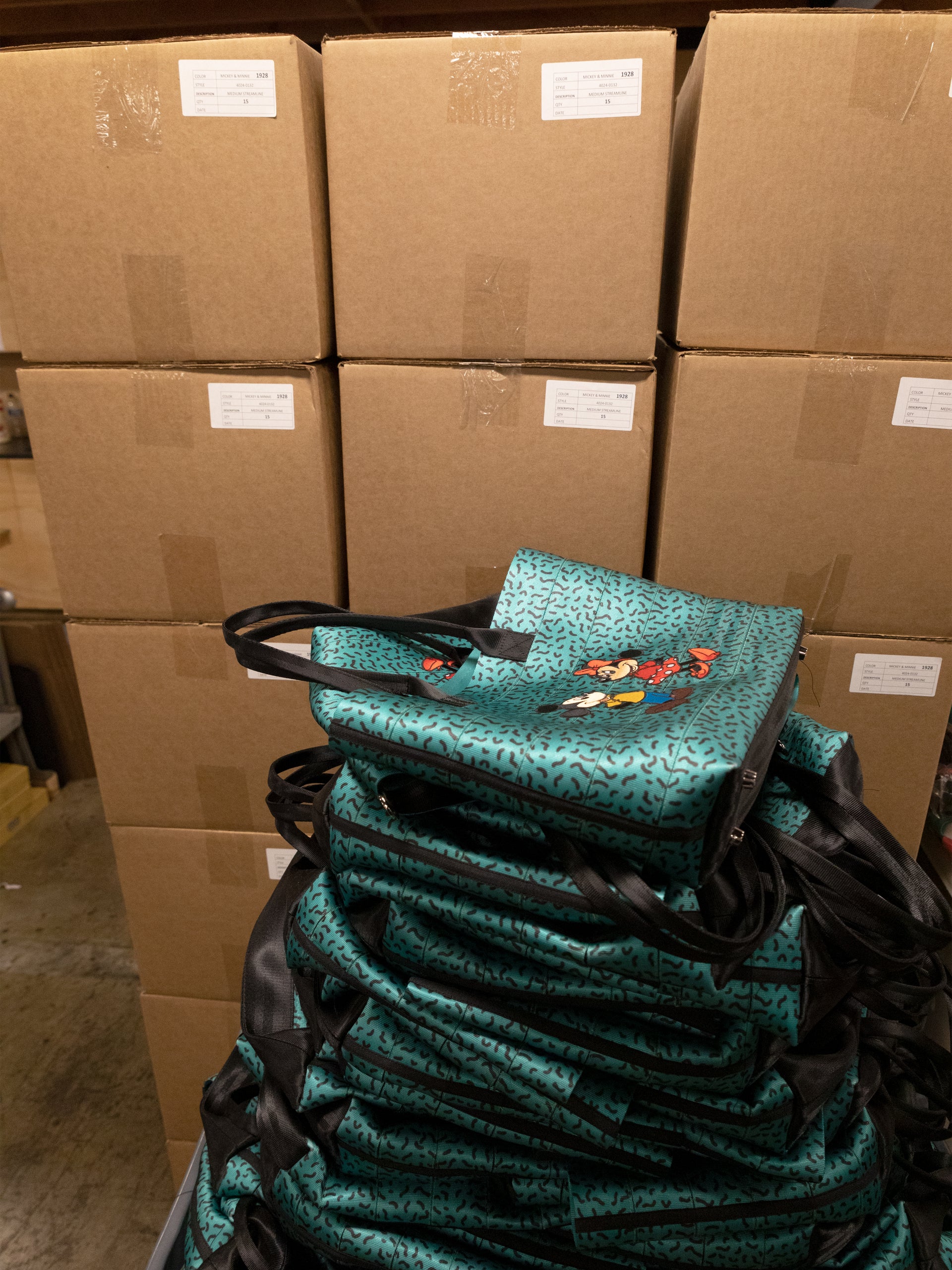 Made for Me: Finishing Touches
Welcome back to Made for Me Monday! Our team is now working on the final stages of production on your Mickey and Minnie Medium Streamline Totes. The bags have been assembled and have made their way through the hands of our Crew that check each bag for quality, add finishing touches like charms, and seal them into bags for shipping. This is an exciting step of the process because it means the bags have finished their journey through our production floor and are now ready to ship to their new homes!
As soon as the bags drop off the sewing machines they are sent to one of the smaller teams in our Crew, quality control. This team of three people double checks each and every bag and accessory that goes through our workshop! Since they are such a small team, everyone must work together in order to finish checking every bag in time for the release or shipping deadline. The first thing they do is inspect each bag for quality. Each bag is given a thorough look over, they snip away any loose threads, and make sure everything is up to our high standards. If they encounter any bags with issues in the sewing or construction they are sent back to production to be fixed before being inspected a second time. 
After the bags have been checked for quality, the team goes in and adds the finishing touches. Each of the Made for Me bags gets a hang tag and charm. Once each bag has been given the finishing touches, it is bagged up in plastic. Our Crew uses different sized plastic bags depending on the silhouette. We do this to give the bags an extra layer of protection to help keep them safe during shipping or pickup.
Once the bags have gone through the final stages of quality control they are boxed up and given to our shipping team! There are only two people on our shipping team which makes it the smallest team in our workshop. They handle day to day shipping and during large releases like Made for Me we all come together to help out. We can get thousands of orders on a release day so we need all hands on deck to make sure orders get out in a timely manner. From marketing, to design, to sales, and even Melanie herself, everyone joins in to make sure each bag is packaged and shipped with love. 
We hope you enjoyed this week's look into the Harveys workshop! Our Crew is organizing all of the orders and have even began shipping so keep an eye out for an email within the next week for a shipping notification if you preordered one of these amazing bags! Next week we'll have a final word on our Made for Me journey.