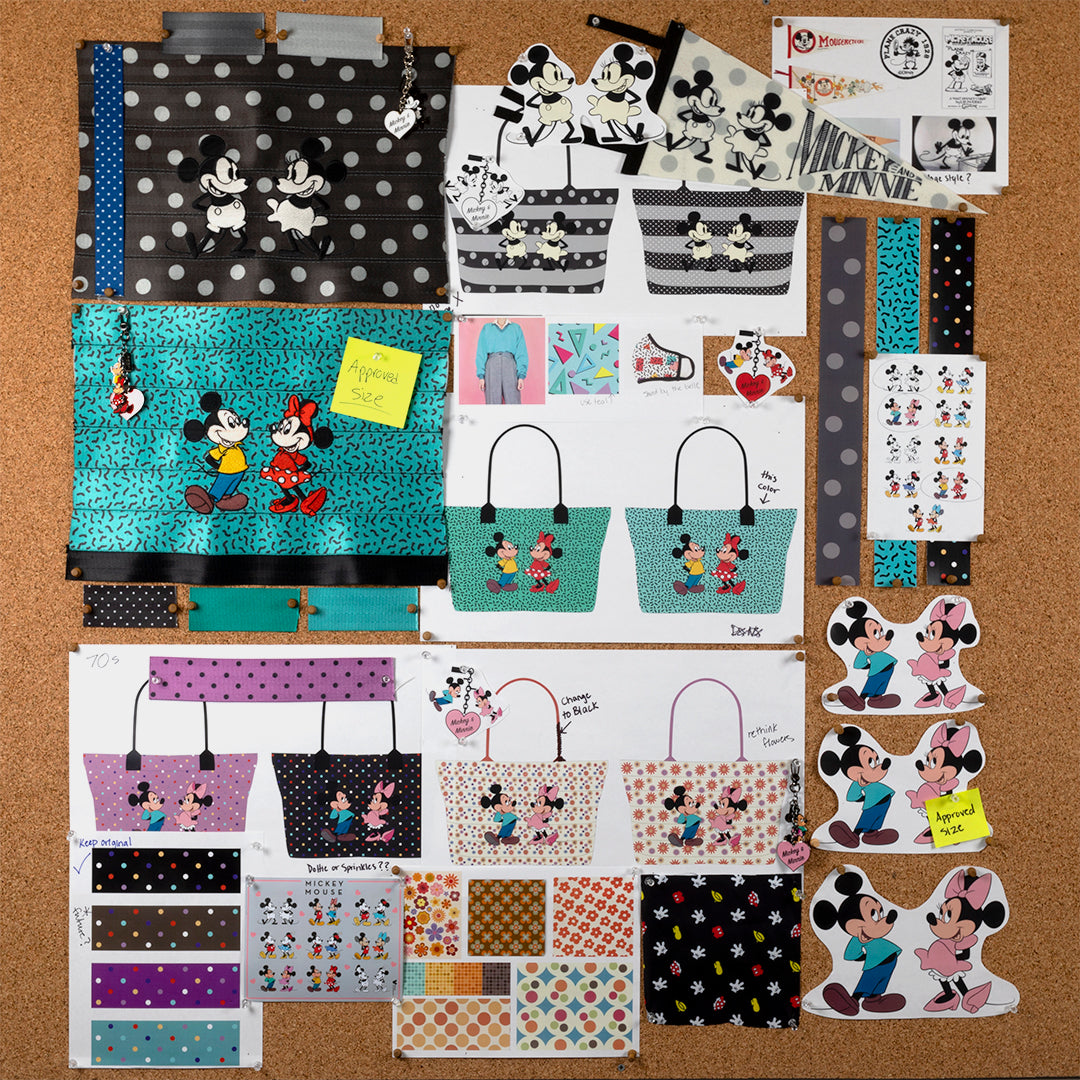 Made for Me Monday: Design Edition
Welcome to Made for Me Monday! Every collection has to start somewhere and today we'll be talking about the design process! When creating Mickey and Minnie Through the Years, we knew we wanted to find a way to highlight our favorite eras of these characters in a new and interesting way while also paying homage to our 25th Anniversary and 14 year history of working with Disney. 
To begin, Dana and Melanie brainstorm themes, ideas, and an overall direction for the collection. Then they met with the design team to see which version of Disney's sweethearts they were most inspired by. The team created moodboards in Illustrator and narrowed down our inspiration to get a feel for how each design would potentially work as a bag. Then they walked the shelves to check out seatbelt colors and prints that could potentially be a good fit. During this phase of the design process, many different digital mockups were created by our team for various different Mickey and Minnie designs. They test out different colors and prints to visualize how each element will work and come together in the collection. 
It was difficult to narrow down as we had so many good choices! Many different options were shown to Melanie and Dana, who decided which designs will make the cut. In the end we decided to go ahead with the 1920s, 1970s, and 1980s versions as those resonated with our team and seemed like they would make fun seatbelt bags! 
We wanted to pair each era of Mickey and Minnie with a fun print to really make each design pop. As a team we decided to have each bag pay homage to a fan favorite bag or collection from our past. For the 1920s bag we experimented with different sized polka dots using previous prints as references. An original version had smaller polka dots similar to our Dottie print but we ultimately felt that the larger dots lended better to the overall retro feel of the design. We know fans loved our previous Steamboat Willie bags and decided to use the same gray polka dot from that collection. For the 1970s and 1980s bags we referenced our previous Sprinkles collection and Saved by the Belle lining. As a team we were excited to bring back these much loved elements into something fresh and new.
Once we had a general feel for the direction of the collection, we needed to decide which silhouette would be best for the designs. A lot of thought goes into this decision as we want to be sure to choose a silhouette that will best fit the upcoming design. We consider things like size, number of belts, handle placement, and utility when trying to decide which silhouette to consider for a collection. We knew we would need a good amount of space on the front of the bag for the embroidery and wanted this collection to feature an overall classic silhouette. We ultimately chose the Medium Streamline Tote as it is very versatile and big enough to showcase larger designs. This silhouette is a fan favorite as well as a personal favorite of Melanie, so it just made sense for us to use it for our Made for Me collection!
Our team doesn't skimp on any details, we spend weeks going over every element of each bag. Things like lining, charm, accent color, zipper etc are all just as important and go through many rounds of meetings with Melanie and Dana to select! Sometimes going over the small details can take weeks or even months to finalize but as a team we believe that the extra work is worth it. All the small elements add up to create a truly unique and special bag that's made with love.
After working through the designs, we create a presentation and meet with the team at Disney to discuss the upcoming collection and the marketing concepts. We listen to their feedback and work together to make sure we stay true to the original characters. We often spend a few weeks or months making changes based on Disney's suggestion. In the end we work together to find a finalized design that both teams can love. 
Once we get the go ahead from Disney and all designs are finalized it's time to sample! Stay tuned because next week we'll go over how our team takes the digital designs and turns them into physical samples!