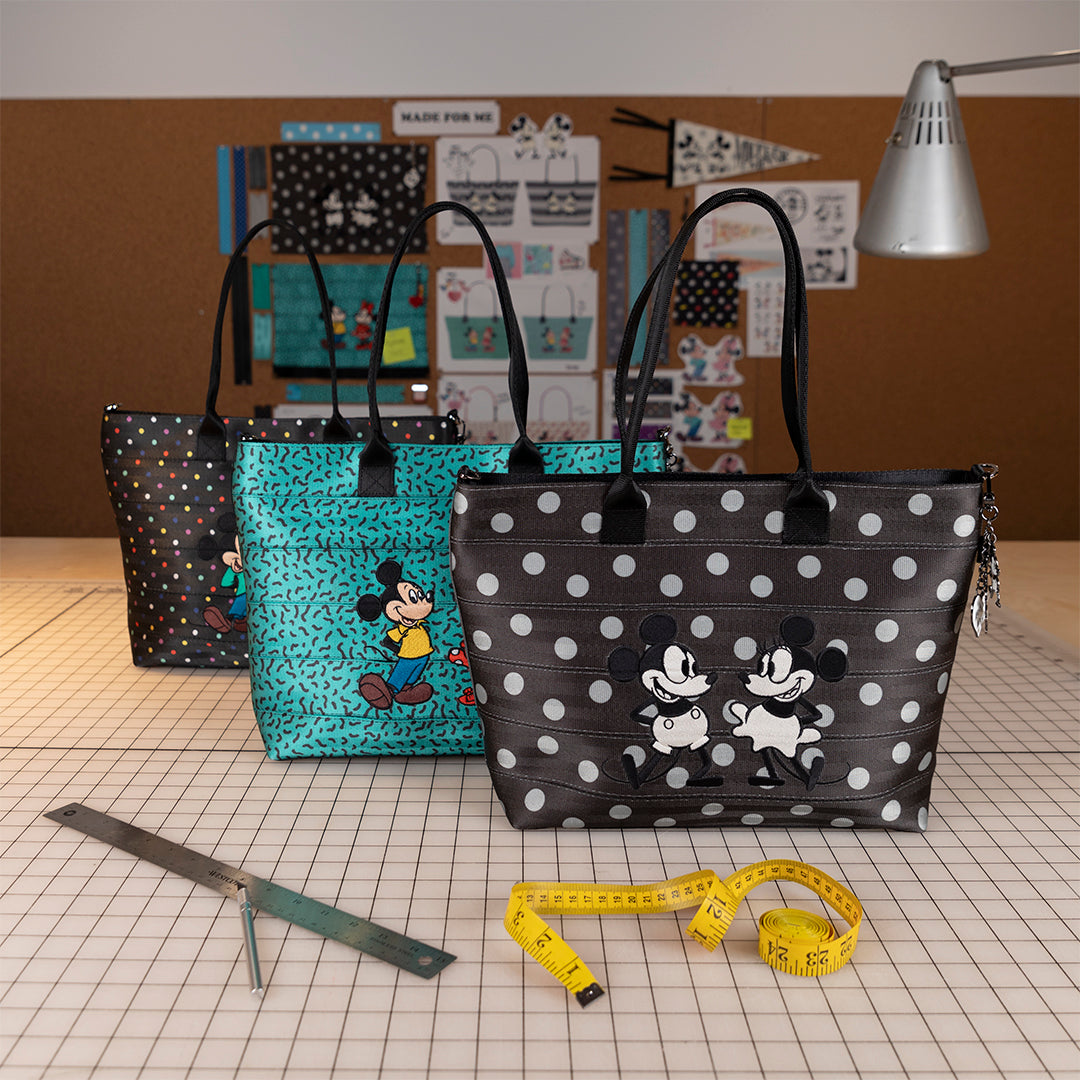 Welcome to Made for Me Monday!
Hello and welcome to our first Made for Me Monday! We are so excited to open up our factory doors and take you along the journey to see how your bag is made! Over the past 25 years what started as a dream between husband and wife team Dana and Melanie has since turned into a 50 person Crew. While some things may have changed over the years, we've stuck to our core values of family, love, and seatbelt bags. Each Harveys bag is sewn with love by our Crew right here in Santa Ana and this time we'll be taking you behind the scenes to see how the magic happens!
Since 2011, we have been fortunate enough to collaborate with Disney on a variety of collections featuring the fabulous Mickey and Minnie Mouse. As a small business, it was a dream opportunity to be able to work with the Disney team and grow that relationship into countless dream collaborations over the past 11 years. When we designed our Mickey and Minnie Through the Years collection we knew we wanted to find a way to feature our favorite versions of this iconic duo. 
The initial idea for this project began because we've always been interested in showing how our small team is able to make our bags and accessories from beginning to end. From the outside, it may look like we have a big team but the reality is that from the retail store to production, our entire team consists of 50 employees. A lot goes into each step of the process! To make each collection come to life, every member of our team has to wear many different hats to "make it happen"! 
For years customers have expressed interest in a presale model, so we decided to combine the two ideas into Made for Me! For the first time ever, we'll be giving you a special behind the scenes look at our factory- no golden ticket required! Since this year is our 25th Anniversary, we thought this would be the perfect chance to showcase our love for Mickey and Minnie and take you along for the ride!
Over the next 12 weeks we'll be breaking down our creation process from the initial design phase, through the sewing machines, and finally, shipped to their new homes. Be sure to follow along for this special chance to see how our seatbelt bags are made for you right here in California.
Next Monday we'll continue this journey with the design process and the opportunity for you to step into a design meeting with Melanie and Dana and see the many steps it takes for an idea to turn into a physical product.