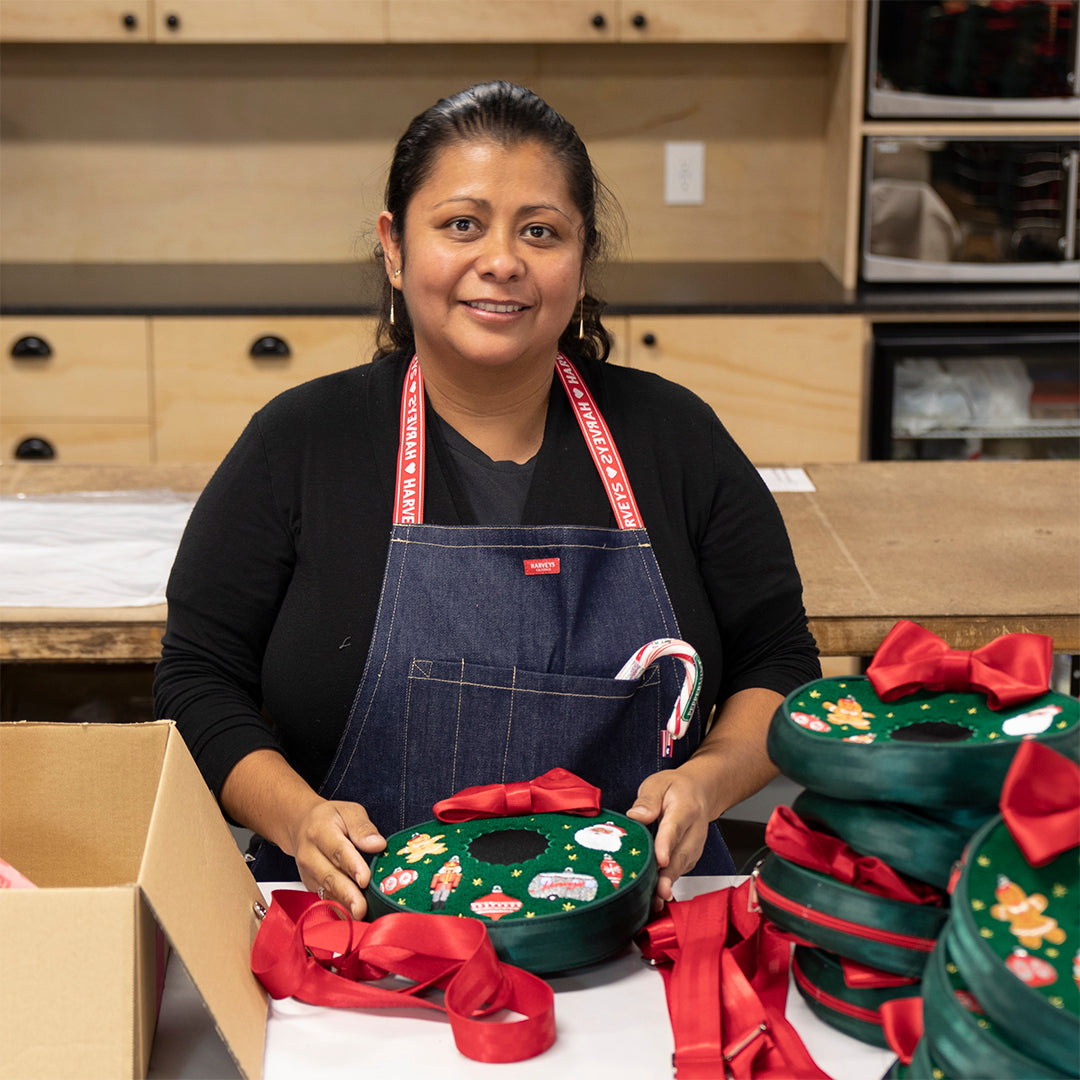 Meet the Crew behind our Harveys Workshop Collection
The Harveys Workshop collection is all about our Crew and the magic behind our bags. We thought it would be fun to showcase some the real life Harveys elves that make the magic happen.
Meet Elvia and Fernando! Elvia has been with us for 19 years! She creates the bag "recipes" making sure our team has exact measurements and all the components needed to build each bag perfectly. Then she hands that off to Fernando. He's been with the Harveys team for 20 years! He cuts every strip of seatbelt to the perfect length so your bag comes out exactly like the original sample.
Our next two crew members are Rosa and Martin. Rosa is responsible for sewing together all of the individual seatbelt strips making sure that the prints are matched up correctly! She literally has a hand in making every Harveys bag. Martin is our head sample maker and works closely with Dana and Melanie to bring their dreams to life. He welcomes new challenges and takes great pride in his work.
Next up is Jorge and Tony. Jorge has been with us for over 14 years and is responsible for many tasks one of which is attaching the Harveys Heart feet to the bottom of our bags using this 2 ton press. Tony heads up the cutting team and operates our computer guided laser used to cut our bag linings and various seatbelt pieces when the utmost precision is required. These important details help ensure that all of our bags are Made with Love.
Last but not least, meet Jessica and Carolina! Carolina inspects each bag, adding finishing touches and making sure everything is absolutely perfect before handing it off to Jessica as she prepares each package to send off to it's new home. 
We hope you enjoyed our Crew Spotlight series and there are many more that work behind the scenes to help make the magic happen. We look forward to every release and our only wish is that we can bring a smile to your face. 
Don't forget, our Harveys Workshop Collection releases 11/6/20 at 8am PST.