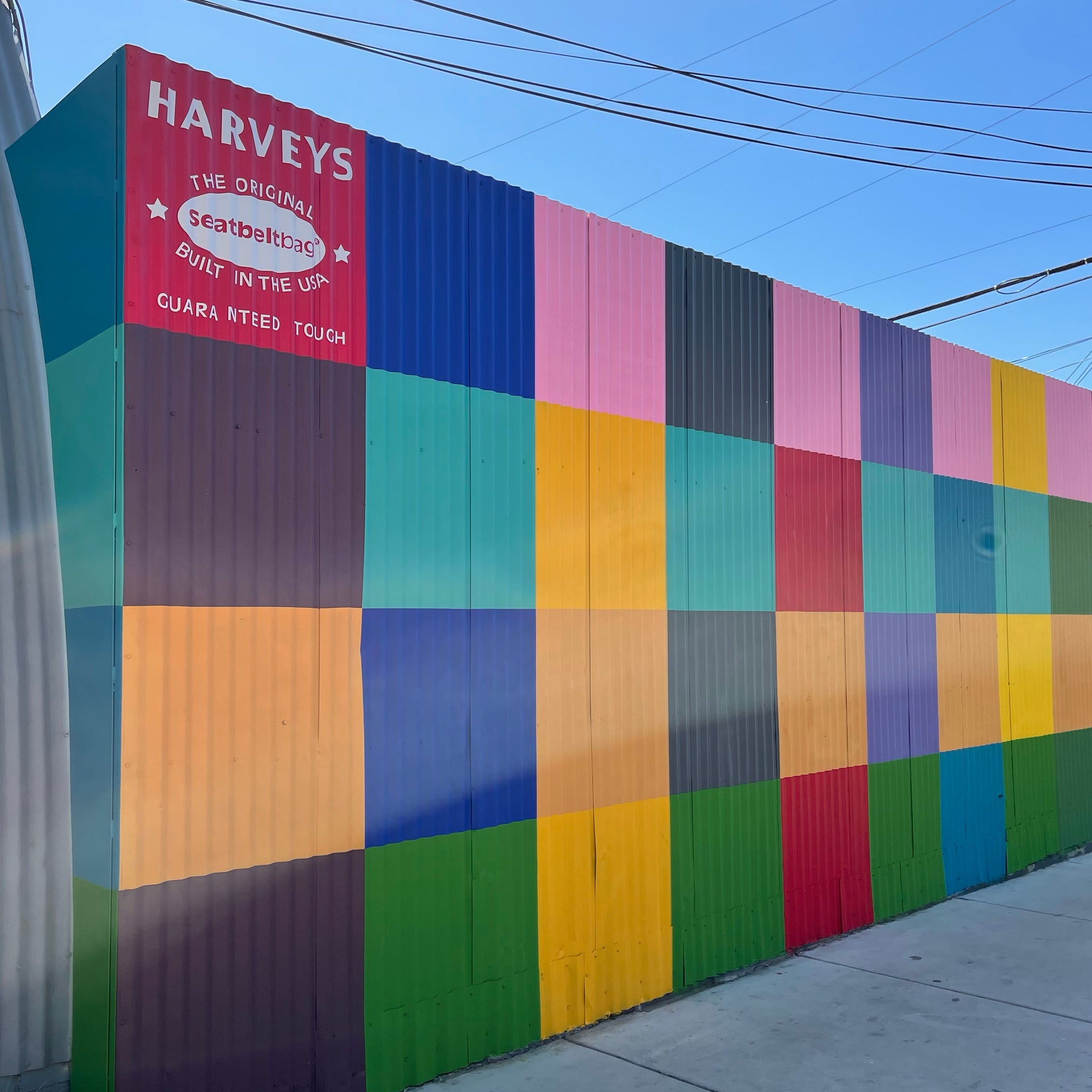 Paint it Harveys
If you've been to our retail story recently or follow us on social media, then you'll have seen our beautiful new mural! This project came about because our team wanted to do something special to commemorate Harveys' 25th Anniversary. Dana wanted something that was uniquely Harveys and dreamed up this design based on our 25th Anniversary print and past Paint by Numbers collections.
Our beautiful mural was done by the talented Damin and you can find him on Instagram @zaoone! Damin is a personal friend of the Harveys and an amazing artist! He came by on a Monday with tons of spray paint and was done by Thursday. We asked Damin a few questions so everyone could get to know the artist behind this amazing work of art!
Can you tell us a little bit about yourself? How did you get into making murals?
"Skating all over LA as a kid opened my eyes to graffiti and all the colors on the walls. In 1992 my family moved to Santa Ana and that is where I have lived since. Growing up I never really knew art could be a job. I started working in art 9 years ago and 4 years ago painting murals became my successful, full time job supporting my beautiful wife, three kids, and house full of animals."
What is your process for starting a mural and creating something on such a large scale?
"I meet with the client to hear what they love in terms of styles of art, colors, and dreams. Just as important, I walk or drive around the area to see what the culture is. You always want the mural to fit in its surroundings. 
This one was all squares so I spent a day with a level and tape measure and made sure every pencil line was straight. The next two days were spent with lots of Frog tape, MTN94 spray paint, coffee, and burritos."
What is your favorite thing about the Harvey's mural?
"It is 100% Harvey's and it's still 100% me. I love that. Any person could take a picture in front of this wall and it will look awesome. A mom and baby, teens just having fun, skateboarders, dancers, animals, even sports cars and motorcycles. This wall brings life, joy, and childlike whimsy to the hood!!"
Have you been by to check out our new mural? If you drop by our retail store in Santa Ana be sure to check it out and if you take a picture, share it on social media and tag us @shopharveys on Instagram!